Werbetext (www.disney.com): What a beautiful day to join Belle, the endearing heroine of Disney's "Beauty and the Beast," and her friends as they gather 'round to share their magical Tales of Friendship.
The moment you step into Belle's Book & Music Shoppe, the magic of friendship comes alive in engaging adventures filled with lessons of love, laughter, and the joys of working together. Charming stories include "Mrs. Pott's Party," featuring the original stars in the roles they made famous: Paige O'Hara (Belle), Jerry Orbach (Lumiere), David Ogden Stiers (Cogsworth), and Robby Benson (Beast). Plus, when Belle reads classic tales like "Three Little Pigs" and "Hansel and Gretel," they jump right off the pages of the enchanted Big Book and into your heart.
This captivating blend of live-action and animated characters, classic Disney storytelling, and five catchy songs never before on video is sheer delight for your entire family.
Zurück zum Disney-Film-Index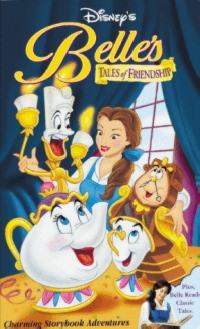 © DISNEY