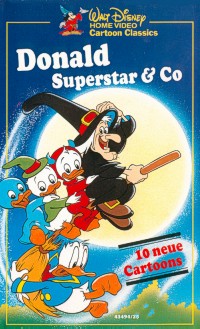 GROSSE ABBILDUNG
© DISNEY






DONALD SUPERSTAR & CO
(OHNE VORSPANN / DT. SYNCHRO)


Let's stick together (1952, DD)
Pigs is Pigs (1954)
Social Lion (1954) (GEKÜRZT)
Trick or Treat (1952, DD)
Susie, the little blue Coupe (1952)
Rugged Bear (1953, DD)
R'coon Dawg (1951, MM/P)
Donald's Ostrich (1937, DD)
Goliath II (1960)
The Story of Anyburgh (1957)



Covertext: "Ach, das waren Zeiten", schwärmt der gute Donald, als er an die herrlichen Abenteuer zurückdenkt. An seine endlosen Kämpfe mit A + B Hörnchen und an die wunderbare Daisy, in die er immer noch verliebt ist. Auch die freche Biene "Spike" mit ihren unbesiegbaren Stachel ist voller Träume.