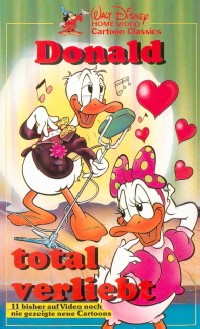 GROSSE ABBILDUNG
© DISNEY






DONALD TOTAL VERLIEBT
(OHNE VORSPANN / DT. SYNCHRO, FILM 5,7: ORIGINALFASSUNG)


Donald's Dilemma (1947, DD)
Figaro and Cleo (1943, Figaro)
Hooked Bear (1956, H)
The Brave Engineer (1950)
Timber (1941, DD)
Chicken Little (1943)
Mother Pluto (1936, SS/P)
Bootle Beetle (1947, DD)
The Flying Squirrel (1954, DD)
The Saga of Windwagon Smith (1961)



Covertext: Donald, bekannt dafür, nichts anbrennen zu lassen, hat die Chance seines Lebens: Daisy macht ihm mehr als schöne Augen! Jetzt gilt es Eindruck zu schinden, und Donald probt ein Liebeslied, bei dem sogar der gute Sinatra voll erblassen würde. Leider vergißt Donald in der ganzen Hektik, alles Notwendige vorzubereiten...
Außerdem noch 10 weitere, bisher auf Video noch nie gezeigte Cartoons mit Pluto, Humphrey und vielen anderen - ein explosiver Cocktail unvergleichlicher Disney-Cartoons!