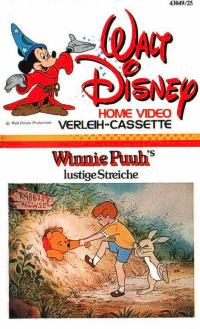 GROSSE ABBILDUNG © DISNEY






WINNIE PUUH'S LUSTIGE STREICHE
ANFANG 80ER (MIT VORSPANN / DT. SYNCHRO, FILM 1,3: ORIGINALFASSUNG)


Beezy Bear (1955, DD)
WP and the Honey Tree (1966, WP) WINNIE PUUH UND DER HONIGBAUM
Pluto and the Gopher (1950, P)

Info: Die mir vorliegende Videocassette endet nach diesem Cartoon. Laut "Der Donaldist 55" enthält das Video noch folgende Cartoons: Pluto and the Armadillo, Donald's Vacation, Sea Scouts. Eventuell nur auf älteren Auflagen enthalten?

Covertext: Jetzt gibt es ein Wiedersehen auf Video mit Winnie Puuh, dem putzigen Bären und seinen vielen Freunden aus dem Hundert-Morgen-Wald! Erzählt wird die Geschichte, in der Winnie Puuh durch den Wald streifte und sich selber zum Essen bei seiner Kaninchen-Freundin einlud. Er wußte, daß sie stes einen großen Topf mit süßem Honig in ihrem Baumhaus hatte.
Ebenfalls mit dabei auf dieser Cassette sind Pluto, Breezy Bear und Gopher!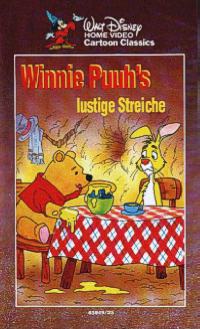 GROSSE ABBILDUNG © DISNEY